It's a paradox of this newsletter that the more news there is, the less I'm inclined to write. My purpose here is perspective, not reaction, and perspective is murkier when the days are busy. Here's an incomplete list of what has happened since I last wrote:
We finally got access to Donald Trump's tax returns. The President is a tax cheat and a financial fraud—file that under "shocking, not surprising"—who should probably face prosecution for his crimes.

Ruth Bader Ginsburg died, Amy Coney Barrett was nominated and is currently being rushed through confirmation (more on that below).

The consensus "worst debate in presidential history" happened. The ensuing debates likely won't since…

Donald Trump contracted and was hospitalized with COVID-19. He continues to campaign and interact with others in close proximity. Numerous people at the highest levels of the federal government have contracted the virus.

The FBI foiled a plot by right wing domestic terrorists to kidnap the Democratic governors of Michigan and Virginia.
I am one of those voters. My mail-in ballot arrived promptly at the beginning of the month, was returned within a few days, and less than 48 hours later I received this: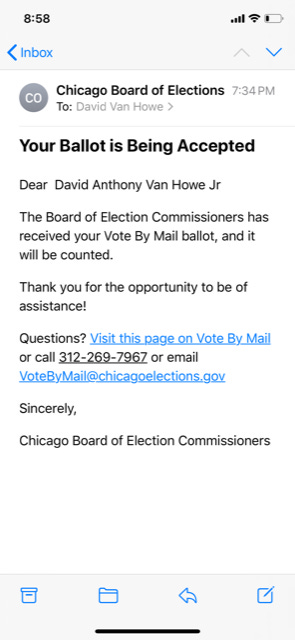 That voting during a pandemic is safe, secure, and efficient here in Chicago is a credit to the city and the Postal Service. That millions of voters around the country do not have access to such an easy process—who are forced to stand in hours-long lines for early voting—is a gross injustice and, most importantly, the result of deliberate intention. These citizens are being actively victimized by anti-democratic public officials, including the Republicans on the Supreme Court who ripped up the protections of the Voting Rights Act. The only remedy is to elect Democratic candidates who will pass new voting rights legislation, perhaps even amending the Constitution.
---
All this intentional confusion and disorder around voting serves as a reminder that institutions are only as good as the people within them. The Constitution allows for the wielding of power, but how that power is used is up to the people in government. Power can be used to liberate and just as equally to oppress.
Take the Senate as an example. Some of the nation's best and worst public servants have been Senators. The Senate can give us a Hubert Humphrey, who once said,
"... (T)he moral test of government is how that government treats those who are in the dawn of life, the children; those who are in the twilight of life, the elderly; and those who are in the shadows of life, the sick, the needy and the handicapped."
The Senate can also give us, in the same era, Joseph McCarthy.
If we learn one lesson from the Trump era, it perhaps should be that the ideals of democracy and justice are not self-perpetuating. You need people who believe in them and work for them, and you need to defeat the people who do not. And there are powerful people in American life who comprise the latter, and to serve their ends, they have Mitch McConnell.
As both the minority and majority leader of the Senate, McConnell has exploited both the Constitution's fault line of disproportional representation and the outmoded parliamentary rules of the Senate to obstruct or domineer, depending on his purposes. Speaking of Senate comparisons, McConnell is increasingly being referenced in the same breath as Lyndon Johnson. Robert Caro went there:
"In a way, McConnell and Johnson are very similar. They both used the rules and procedures of the Senate with great deftness. But, in a more significant way, they couldn't be more diametrically opposite. Johnson, for all his faults, in his later years used the rules and procedures to turn the Senate into a force to create social justice. McConnell has used them to block it."
There is no denying the degree to which McConnell has reshaped both the Senate and the Supreme Court. But this rushed Senate confirmation may be his Icarus moment. He is taking an enormous risk: he has given Democrats, possibly on the eve of taking control of the Senate, an easy justification for the necessity of expanding the Supreme Court, while lessening the political costs to doing so.
---
There's really only one thing you need to know about Amy Barrett: she's a Republican. She's a conservative, sure, an evangelical, yes, and an 'originalist', ok (more on that below), but those identities hardly matter. The way to understand her career, past and future, is that she, like Brett Kavanaugh, is a partisan, what we may more crudely term a party hack.
That's different from being a judge whose ideological orientation corresponds with that of a political party, which is how the pre-McConnell Court functioned. The most notable events from Kavanaugh and Barrett's careers prior to the Supreme Court were not landmark cases or opinions, but rather their respective work for the GOP on the Clinton impeachment and Bush v. Gore. Nor are they selected for their impressive intellects, as their evasive confirmation hearings showed—neither was willing to engage in any substantive discussion on pressing legal, political, or moral issues.
Take Sonia Sotomayor for contrast. Sotomayor holds left of center views that align with Democrats' values; no one would deny she is a liberal justice appointed by a liberal president. But Sotomayor never worked as a party operative. In fact, the most important promotion in her career, to the Southern District of New York, came from George H.W. Bush.
Kavanaugh and Barrett, on the other hand, are products of a right wing judiciary farm system, the beneficiaries of career sponsorship from political activist groups like The Federalist Society and the Heritage Foundation. Their careers have existed entirely within this Republican judicial ecosystem. Barrett has never even taken a case to trial as an attorney; her sole purpose on the bench has been to advance the interests of her political party within the American judiciary. She will continue to do so as a Supreme Court Justice, and that's really all you need to understand.
Probably the most significant moment of the confirmation was Rhode Island Senator Sheldon Whitehouse's devastating articulation of this very issue. It's worth a read and worth a viewing, if you missed it.
---
This brings us to another important understanding: 'originalism' is a faux intellectual theory used to give right wing judges cover for being ideologues and partisans. Here's how Barrett defines 'originalism':
"I interpret the Constitution as a law, and that I interpret its text as text, and I understand it to have the meaning that it had at the time people ratified it. So that meaning doesn't change over time and it's not up to me to update it or infuse my own policy views into it."
This is not a serious legal or historical theory. The notion that the Constitution is a static document is inherently contradicted by the existence of amendments. Indeed, one of the first things the first Congress did with the Constitution was amend it, and it was the principle author who led the way. 'Originalism'—sometimes interchanged with 'textualism' or 'constructionism'—is hardly worth arguing against because it is so obviously and egregiously wrong. The 'intentions' of the framers are not indecipherable ancient prophecies; they are there for any American to read, and anyone browsing the American History section at a Barnes & Noble can see the Constitution is a living document that provides an enduring and adaptable framework for governance, not an immutable 'law' carved on a stone tablet.
I wrote last time about trolling. 'Originalism' is intellectual trolling—it's unassailable because it's completely unreasonable. Its function is not to foster serious debate about constitutional law. Its function is to frustrate.
Alex Pareene gets at this brilliantly over at The New Republic:
To explain any legal "doctrine" these days is only to explain the justification that a few partisan individuals use, or plan to use, oto rule the way they wish to rule. The media does the legal profession a massive and completely unearned favor by taking its claims about how lawyers and judges decide cases at face value, rather than seeing them for what they are: pretexts for the exercise of power.
---
There is a similarly cynical aspect to Republicans' claims of Barrett being persecuted for her Catholic 'faith.' This is another unassailable position to assume; the dance goes like this:
Democrat: Explain your right wing views.

Right Winger: My views come from my religious faith.

Democrat: Your views are extremist. I disagree with them. They are right wing.

Right Winger: How dare you attack my faith.

Right Wing Media: LIBERAL ASSAULT ON PERSONAL FAITH
But the aspect of this charade that is really grating on me is that it's another example of right wingers reducing complex identities like Catholic or Jew to single issue political positions. Republicans are interested in Jews insofar as they support a conservative Israel; they're interested in Catholics insofar as they oppose abortion. But that's where the interest ends. They're not interested in liberation theory; they're not interested in and would never come to the defense of Alexandria Ocasio-Cortez's deeply held Catholic faith; they're not interested in the quiet radicalism of Pope Francis, represented in his latest encyclical, which includes passages like this:
The world exists for everyone, because all of us were born with the same dignity. Differences of color, religion, talent, place of birth or residence, and so many others, cannot be used to justify the privileges of some over the rights of all. As a community, we have an obligation to ensure that every person lives with dignity and has sufficient opportunities for his or her integral development.
Indeed, it's this reduction of complex identities to simple political positions and orientations that permits Republicans to defend Amy Barrett's Catholic identity while at the same time dismissing Joe Biden's. It's part of this increasingly authoritarian trend within the party, wherein my views and my identities are legitimate, and yours are not.
---
If You Only Read Two Things This Week: I've taken on a (ahem) budding interest in trees, inspired in part by Richard Powers' terrific novel The Overstory, and so it's timely that there appeared two terrific tree-centric pieces in major publications recently: "New England's Forests Are Sick. They Need More Tree Doctors" in the Times, and "Trees Are Time Machines" in the Atlantic. Interestingly, both articles include insights from arborists who agree that new plantings in the northern regions of the country should be modeled after those currently found in the middle regions— in other words, that the climate in Massachusetts in (optimistically) 20 or 30 years will be less like its historical self and more like, say, North Carolina today. If governments were more like arborists, thinking in terms of decades and centuries, we'd be much better off.
Bookmarked Tweet of the Week:
Final thought: Autumn is a good time to remind everyone that leaf blowers should be banned.