Marginalia 6.29.20
The limits of persuasion
In teaching media literacy, one of the main precepts I share with students is if a piece of news seems too good or too bad to be true, it needs to be viewed with skepticism and in its full context. So when the New York Times publishes an article with the headline "Russia Secretly Offered Afghan Militants Bounties to Kill U.S. Troops, Intelligence Says", which includes reporting that "the White House's National Security Council discussed the problem at an interagency meeting in late March" and presented "a menu of potential options" but the White House has yet to take any action, it seemed too outrageous to be completely true. Surely, there must be some missing context.
In the 48 hours since that story broke, it was subsequently confirmed by multiple media outlets. Since then, it's been reported that military intelligence believes there were American deaths as a result. So, there is no nuanced, missing context to the original story, which is exactly as bad as you could imagine, particularly when you consider that in the subsequent period since these briefings, Trump's most notable Russia-related pronouncements were his public pronouncements in favor of Russia's readmission into the G8 (now the G7).
---
I've been slow to write lately because I realized I needed time to gather some new perspective, and I am wary of fatigue and redundancy if I didn't abide by that. I've also been thinking about the limits of persuasion. It's 2020, and Donald Trump must be defeated. If you need to be persuaded of that, you are beyond reach. The case against Trump is so self-evident, so obvious, that it really doesn't need to be made anymore. Stories like the one above are both egregiously awful and unique to Trump, and they are too numerous to tally. In just the past month, just on Twitter, there's been Trump's retweeting of a video of a supporter yelling "White Power!", his campaign of misinformation and disinformation aimed at undermining public confidence in our democratic elections. This is all in addition to his total disregard for a public health crisis that continues to kill Americans by the thousands and destroy the national economy, which he simply gave up trying to stop; his continued purging of independent officials and experts for unqualified political loyalists; recent public appearances where he has indulged in rambling, incoherent monologues, unable to articulate any plan or vision for why he should be reelected: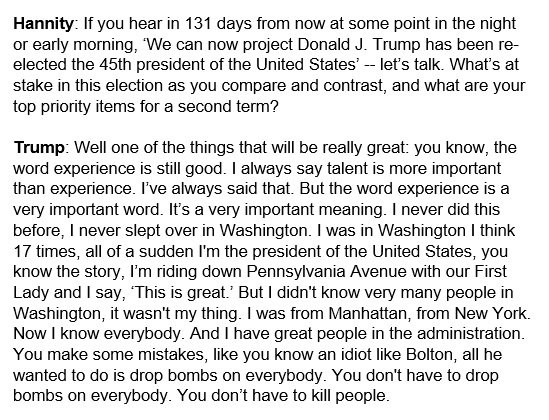 Read this aloud to yourself.
The central argument against Trump since his candidacy has been his innate unfitness for the job. He became president, of course, but he remains unfit, and he will never miraculously become fit. He has to go. If he gave a damn, he'd resign. He should be impeached again. But these things are not going to happen (and it's certainly worth interrogating why), and so we are left hoping that the electorate delivers the outcome its representatives will not.
And when he is finished, Deborah Pearlstein writes in the Atlantic, Trump's legacy must be reduced and relegated to the American "anticanon," part of the collection of presidential failures and transgressions "that has come to be so widely recognized as unacceptable in character, it has not produced any of the common precedential effects."
---
For the past month or so, a sense of complacency crept in about the ongoing pandemic. That seems to have dissipated this past week: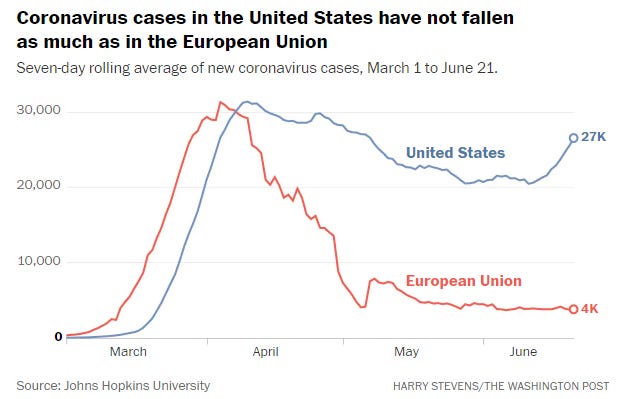 For context, the population of the EU is about 445 million, or more than 100 million more than the U.S.
In the absence of a coordinated national response, there is now a major dissonance in the American experience of COVID-19. Some states did indeed flatten their curves, but others—the ones that disprove the theory warm weather kills the virus—are spiking. The nation is unlikely to experience a "second wave" because the first rolls on. The cause is obvious—in the abdication of a national response, states were left to fend for themselves. Thus, the uneven and ultimately failed recovery that is unique among nations.
This presents us the sobering prospect that we will likely be returning to schools, offices, and other workplaces in a national circumstance that's at least as bad as during the height of the initial stay-at-home periods. Meanwhile, the death toll will keep climbing.
---
There are of course many causes for the tragically disproportionate deaths in the United States. The virus exposed our structural inadequacies and failures that resulted from choices made decades, even centuries, ago, and have been left unaddressed by neglecting generations of American policymakers.
But one theory of failure I reject is the one that argues 21st Century Americans are uniquely ill-equipped to make the necessary sacrifices to mitigate the spread of the virus. This, like any argument that blames individuals and ignores systems and power, is a seductive line of reasoning, but it excuses the failure of leadership. Americans can do difficult things, but they need to be given clear direction, and those who deliver those directions need to model the desired behaviors. That happened in some states, but not others, and not on a national level.
I keep going back to the absence of a WPA/World War-style propaganda campaign to promote mask-wearing, distancing, and other public habits and behaviors in the name of good citizenship. Such public campaigns have the additionally significant effect of shaming people who flaunt such guidelines. Where persuasion comes up short, shame can be a powerful incentive: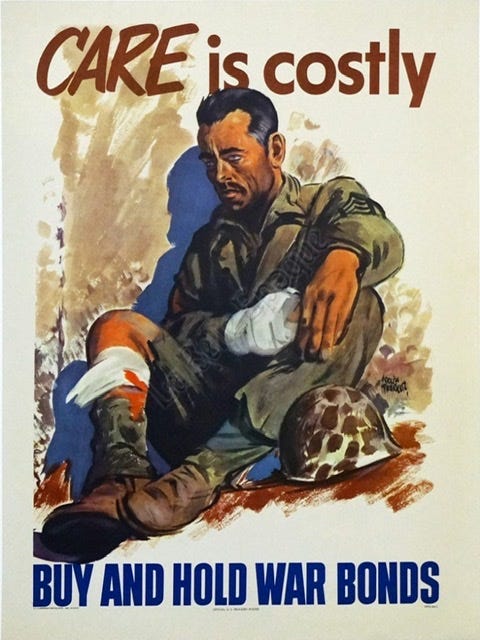 But there was no modeling and no messaging. Instead, the White House press secretary terms mask-wearing "a personal choice," an utterly meaningless and amoral sentiment—being an inconsiderate asshole is a personal choice, too. Let's all remember the next time one of these grifters invokes "toughness" or some other such bluster that the simple gesture of wearing a cloth mask to limit the spread of germs was asking too much of them.
Drag 'em, Boss.
---
If we lived in a world where the best arguments won out, then the nation's problems would have been solved by Abraham Lincoln and Frederick Douglass. Instead, ours is a reality where Veep is a work of realism and The West Wing pure fantasy. If the best arguments prevailed, Washington D.C. would already be a state.
The question of D.C. statehood cannot accurately be termed a debate, as issues of debate feature compelling arguments from more than one perspective. The simple fact of D.C.'s non-state status is that the 700,000 Americans who live there are disenfranchised, of whom 50% are Black. American history tells us this is not a coincidence. It is also worth noting that at its inception, D.C. had virtually no inhabitants to disenfranchise.
Tom Cotton is a senator from Arkansas whose stated purpose in life is to argue against people he resents. The academic word for this is contrarian, but as an English teacher I must note that the more accurate term is troll. Tom's steadfast commitment to trolling makes him a real up-and-comer in today's Republican Party.
So when it came time for someone—anyone—to make a losing argument against D.C. statehood, Tom Cotton sprinted down to the Senate floor (reports say he trampled rival/doppelgänger Ted Cruz in a two-man stampede). Let's look at and respond to the points of argument Cotton advanced:
Those in favor want "two Democratic senators in perpetuity."
Obviously Cotton is correct that in the modern political landscape, D.C. voters are heavily likely to elect two members of the Democratic Party as their Senate representatives. As of 2020, Americans are still free to elect Democrats. D.C.'s preference for Democratic representatives would be what we characterize in politics as "safe seats"; many—most, in fact—current Senators occupy them, an example being Tom Cotton, a Republican from Arkansas.
If Cotton would prefer these two new Senators to be Republicans, he and his political brethren could think of ways to make that case to the voters of D.C., who happen to be just as American as any Arkansan, with the critical difference they have no representation in Congress.
"They want to make Washington a state to rig the rules of our democracy and try to give the Democratic Party permanent power. But in doing so, the Democrats are committing an act of historical vandalism as grotesque as those committed by Jacobin mobs roaming our streets."
You can understand Cotton's alarm here; indeed, if you added two new Democrats to the current Senate, Republicans would *checks notes* still hold a two-seat majority.
As to the second sentence, it features an analogy that makes absolutely no sense, no matter how impressive you think "Jacobin" sounds.
"Washington has just over 700,000 residents, more than Wyoming and Vermont, and about as many as Alaska. Doesn't this qualify Washington as a state? Well, if it did, we'd need a lot more states because Washington is just the 20th largest city in the country."
The residents of those other cities have representation in Congress.
"Yes, Wyoming is smaller than Washington by population, but it has three times as many workers in mining, logging and construction, and ten times as many workers in manufacturing. In other words, Wyoming is a well-rounded working-class state."
Tom learned in his Harvard history classes that We, the People means only people who work in mining, logging, construction, and other such industries (What's the common thread here? Environmental destruction?) are entitled to political representation. Tom also implies that you surrender your political rights when you reach a certain level of prosperity. Workers of the world unite! Comrade Cotton is here to champion the Proletariat!
"What vital industries would the new state of Washington represent? Lobbying? Bureaucracy? Give me a break. By far, the largest group of workers in the city are bureaucrats & other white-collar professionals."
I have a comment I frequently use when students make dubious assertions in research essays: Citation needed—do you have a source for this?
On a serious note, this is erasure of hundreds of thousands of Black D.C. residents, and the many other working class D.C. residents, many of whom Tom sees—if only in passing—on a daily basis. This is what real elitism disguised as populist demagoguery looks and sounds like. One more Cottonism, and it's a whopper:
"Would you trust Mayor Bowser to keep Washington safe if she were given the powers of a governor? Would you trust Marion Barry?"
Staying in English teacher mode: when the surface text is dubious, we look to the subtext to infer the speaker or writer's real meaning. In politics, subtext—particularly subtext that delves into racial issues—is often referred to as a dog whistle. But let's be generous: what do you think is the subtext of Cotton's statement above? What do Bowser and Barry have in common that, in Cotton's mind, makes them unsuitable for gubernatorial responsibilities? (Never mind that it's uncertain how exactly a governor of D.C. would wield more power than a mayor, aside from depriving the president direct policing authority, which as we saw this month, can be terrifying).
Indeed, when you dissemble the attempts at rhetorical flourish, Cotton's argument against D.C. statehood is that it empowers of people I do not like. That's it—that's the whole sum of the argument. Again, if I'm being generous to Cotton, I'll say that's completely understandable on a human level. I also do not want the people I like—people like Tom Cotton—to gain power and influence. But where Tom and I differ is that I support democracy even and especially if it produces outcomes counter to my liking. Indeed, this idea of the consent of the loser is central to living in a democratic, free society, and it's Cotton's party whose rhetoric, obstructionism, and anti-voting policies that threatens it.
The irony (still in English teacher mode) of Cotton's argument is that he is accusing Democrats of extreme partisanship when he's the one who is guilty.
---
If you read one thing this week: This is not new, but one of the great speeches of recent times was Mitch Landrieu's speech on the removal of Confederate statues and monuments in New Orleans.
Ok, one more about statues and monuments: "The Crumbling Monuments of the Age of Marble", by Mason B. Williams in the Atlantic, from December 2015. This piece explores a key question that Jamelle Bouie reminds us must always be forefronted in any conversation about statues: When were they built? Who put them there? For what purpose? I would argue that statues and monuments tell us more about the history of history, than history itself.
Bookmarked Tweet of the Week: