Marginalia 7.17.20
Let's play pundit
Let me open with a caveat: Nobody knows anything. That three word utterance is the famous declaration of the great screenwriter/script doctor William Goldman about the inexplicable mystery of moviemaking successes and failures. It's a good maxim for keeping humble when you traffic in the world of predictions and forecasts, which, given we are in the middle of a general election campaign, is what I'm going to indulge in here.
Having said that, there is much we already know about the 2020 election. The contest is halfway over, as we find ourselves closer to November 3 than to Super Tuesday. The outcome is being informed by what is happening now and what has already happened in 2020. And, as always, there are some historical precedents which can give us insight into how this year's contest is shaping up. So with history and data as our guides, let's dive in.
---
I: What History Says — Two Presidential Precedents
Every election stands on its own, but there are two elections that rhyme with this year's contest: 1868 and 1932.
1868: The Politics of White Resentment vs. Moderate Electability
Back in January, Donald Trump was vulnerable, but his campaign had a clear theme in the strength of the economy, backed by the concise slogan "Keep America Great." The biggest story of the campaign is that this message collapsed with the emergence and subsequent disastrous mismanagement of the COVID-19 pandemic.
With the loss of his central message, Trump has floundered to provide a rationale for his reelection. Because he is Donald Trump, he has fallen back to Default Trump Mode, making racial enmity his new (old) campaign theme. This is wholly appropriate— Trump is going to go out the way he came in, stoking racial animus, and making explicitly racist appeals to white reactionary voters.
These appeals recall perhaps the most overtly racist campaign in American political history, those of the Democrats in the midterm year of 1866 and the presidential election of 1868. The Democrats were led by President Andrew Johnson, probably the historical figure—certainly among presidents—whom Trump most closely resembles; these parallels are well documented. Unlike with today's Republicans and Trump, however, Johnson's party turned on Johnson—an impeached, widely disliked incumbent—nominating instead Horatio Seymour to head the presidential ticket in 1868. But whether it was Johnson or Seymour, the Democrats' strategy for the elections in '66 and '68 was clear: they were going to aggressively run as the defenders of white nationalism.
Like this year's Democrats, Republicans in 1868 felt the stakes of the election could not be higher. If they lost, Reconstruction would be over before it really began, and the military victory of the Civil War would be rendered moot by political defeat (many historians argue this is eventually what happened, anyway). The stakes being what they were, their primary (no pun) criteria for choosing a nominee became—you guessed it—electability. They needed as close to a sure thing as they could find—a candidate who was known, who was widely admired, who could rally support from both the radical and conservative wings within the party, and who could make a broad appeal to the general electorate—and they chose, of course, the irreproachable hero of the Union Army, Ulysses Grant.
The rationale for and resistance to Grant was very much like the support and opposition to Joe Biden in this year's primary. The left wing of the party—the "Radical Republicans"—preferred Ohio Senator Benjamin Wade, a Bernie Sanders forerunner who was impeccably principled, a supporter of Civil Rights, women's suffrage, and trade unions. Wade was a man, as they say, on the right side of history. But like Sanders, Wade's stubborn, uncompromising positions frightened the moderates in his party, who worried about his limited appeal to a general electorate. They rallied around Grant instead.
But just as moderates and conservatives were skeptical of Wade, Radicals remained skeptical of Grant. The historian Eric Foner writes in Reconstruction: America's Unfinished Revolution,
"(A)s one Republican put it, his candidacy had a "conservative odor", both because of his apparent lack of ideological convictions, and because his earliest promoters had been the 'great conservative and commercial interests in New York' . . . (A) Grant presidency promised moderation . . . Other Republicans, lamented an Illinois Radical, supported Grant merely because 'they think he can be elected. It is a bad sign when we take men instead of principles.''' (p. 337)
You can hear echoes of the same critiques of Biden from the left today.
Grant's official campaign slogan was "Let Us Have Peace"—an appeal to stability after the tumult of the Johnson tenure, what I would argue is the same central theme of Joe Biden's campaign (although another, better slogan floated around: "Vote As You Shot"). Like Grant, Biden enjoys the advantage of being known and, as it is turning out, broadly liked. And like Biden's efforts to shore up his left flank, Grant gave assurances to the Radicals that he would support the Congressional policies Johnson warred against—notably, the Civil Rights Act of 1866.
Knowing they were up against it, the Democrats went all in on white supremacy (It was their vice presidential nominee, Francis Blair Jr., who really gave voice to the party's racism). Foner, again:
"The party's prospects, according to one tactician, depended on whipping up 'The aversion with which the masses contemplate the equality of the negro.'"
In this moment of reckoning with the fault lines of American history, I'd strongly recommend taking a closer look at the Democrats' 1866 and 1868 campaigns.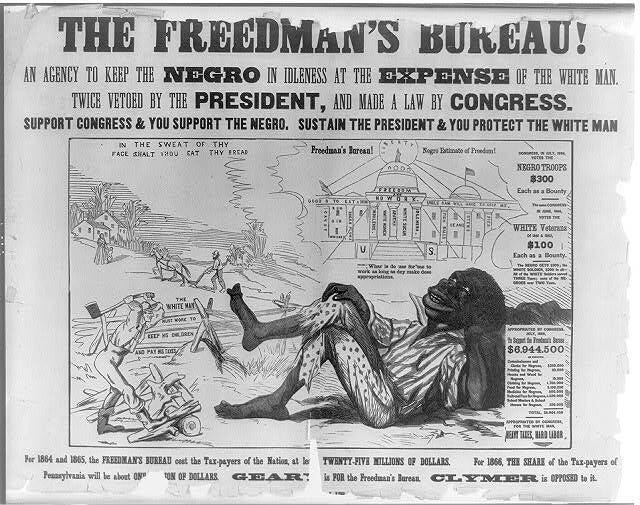 While the Democrats were defeated in 1868, they were able to make the Freedmen's Bureau politically untenable, and it was abolished in 1872, in spite of its many achievements.
Earlier this month, Donald Trump declared Black Lives Matter "a symbol of hate." He began making new overtly racist appeals to white suburbanites. He is defending the Confederate flag and Confederate monuments. If 2018's racist fear-mongering around a migrant caravan of invading foreigners is any indication, these appeals to white nationalist identity figure to intensify as Trump continues to trail in the run-up to November.
So therein lies the parallel to 2020: a white nationalist campaign playing on the fears and insecurities of white Americans about the collapse of white supremacy, against an establishment figure promising a return to stability while reversing the trend of retrogressive reactionary politics.
The 1868 result was a comfortable 214-70 Electoral College win for Grant, but that is not all to say. Thanks to voter suppression and white resentment—coincidentally, the only tactics Trump has left—the popular margin was just 3 million. This, of course, was the first American election in a presidential year where Black men could claim the right to vote. In the Southern states that had been fully readmitted to the Union, roving white gangs, composed mostly of ex-Confederates, terrorized Black voters in the South, including one incident in which as many as 200 Blacks were murdered in a parish in Louisiana, and helped deliver that state and Georgia to the Democrats. Despite his defeat, Seymour won a majority of white voters nationwide; not for the last time, Black voters saved the United States from itself.
1932: Incumbent in Crisis
The election of 1932 pitting Herbert Hoover against Franklin Roosevelt offers us another parallel to this year's contest. Hoover, the incumbent, was reeling and increasingly unpopular due to his underwhelming response to a national crisis, which was exacerbated by his administration's denials and dismissals of just how much of an emergency there really was. This disconnect between the national leadership and the electorate probably guaranteed Hoover's defeat in '32, no matter what. The same circumstances may be in play for Trump in 2020—the old laws of politics, whose demise has been greatly overstated, tell us that a once-in-a-generation calamity like COVID-19 is exactly the kind of event that brings down incumbents and results in dramatic political upheaval. While this is not a guarantee (nobody knows anything), it is certainly in play in 2020.
The trickier and more interesting assessment is just how much Joe Biden has in common with Franklin Roosevelt. There is a debate among New Deal historians as to whether Roosevelt actually campaigned on the New Deal, or as simply "Not Herbert Hoover." In Freedom From Fear, David M. Kennedy writes for the latter:
Roosevelt's victory was less an affirmation of his policies than a repudiation of Hoover's. He remained inscrutable, his exact intentions a mystery. (Pg. 102)
More recently, Eric Rauchway argues the opposite.
We could have a similar debate over Biden's campaign—is he running the most progressive campaign we've seen, or, nah? The answer is probably both. Biden's long record shows that he's always been right in the dead center of the Democratic Party—wherever the Party is, that's where you'll find Joe Biden. The party is more progressive now than it has been in Biden's career, and so is Joe. As was discussed with Grant, his lack of ideological fervor is proving an asset, as the voters who backed him in the primary predicted.
While we think of FDR as the preeminent liberal in American political history, it would be an oversimplification to label him an ideologue. Like Biden, he was an establishment politician, but he understood the crisis of the moment and responded accordingly. He became liberal because the times demanded it, which is far more interesting than being an ideological zealot. This is the optimistic case for Joe Biden's presidency.
The result in '32: Roosevelt won in a landslide, taking the Electoral College 472-59, and the popular vote by 7 million. So, history favors Biden.
---
II: What the Numbers Say
You don't need this newsletter to know Joe Biden is winning, and Trump is running of out time. If the election was tomorrow, Biden would win, the only uncertainty being by what margin. We now have enough data on Biden to say his strength is formidable—he led the polls before he got in the race, he maintained that lead in the primaries, he won the primary, and now he's increased his polling lead in the general. Significantly, his polling in individual states looks primed to expand the contest beyond the three he needs to win; in other words, Biden has already opened more paths to victory than Clinton ever did. Trump's intuition that Biden represented a unique threat to him was correct.
Still, we should expect a regression to the mean—the polls are likely to tighten, as there's nowhere else for them to go, and when they do, we can expect to see the political horse race media eagerly embrace a Trump Comeback narrative. But even if Trump makes up, say, 6 or 7 points—a pretty massive rally—Biden would enter Election Day at least a slight polling favorite.
There are other indicators besides polls that reinforce that Biden is winning. Biden's fundraising is strong. Trump's ad buys are more defensive than offensive. The major Senate races are shaping up favorably for Democrats, and those candidates are in lock-step with their party's presidential nominee, while vulnerable Republicans are starting to detach from an increasingly unpopular Trump. And the House is almost certainly not in play; in fact, Democrats are more likely to expand their majority this cycle than have their majority diminished in any significant way.
---
III: The X-Factors
So, both history and the leading indicators today would appear to put Biden at a commanding position. But there are still some unknowns that could alter the race.
X-Factor 1: Veeps
How much do vice presidential noms affect election outcomes? History, and current polling, tells us the answer is very little, with one notable exception.
As Biden makes his choice in the next few weeks, there's really one error he can make—nominating an unknown that he then has to use precious campaign time and resources to introduce and sell the country on as a potential president. This would seem to rule out candidates like Val Demmings and Karen Bass, and leave us with the more likely options of Elizabeth Warren, Kamala Harris, and Tammy Duckworth (who seems to have supplanted Stacey Abrams). Of course, there is more to say about each of these women, but these are three good candidates, from a campaign standpoint—they are known and credentialed, acceptable to the voters who are backing Biden strongly already, and potentially energizing. Biden cannot make a bad choice from those three.
Perhaps more interesting is the prospect of Trump dropping Mike Pence from the ticket. The conditions are ripe: an increasingly desperate Trump continues to lag in the polls, particularly with suburban women, and his campaign drops Pence for Nikki Haley. Whether Haley would accept at this point is another question.
X-Factor 2: Voter Suppression
It's a problem. We should always remember, no matter what else is said about John Roberts, he's the justice who wrote the egregious majority opinion for the decision to dismantle the Voting Rights Act in 2013, a ruling that severely degraded American democracy, allowing states to implement Jim Crow-like obstructions to voting.
X-Factor 3: The Pandemic & Voting Disasters
As we have already seen, voting in a pandemic is precarious. We can expect many complications to arise, particularly given that Republicans will be motivated to inflict and exploit confusion in an election where they will likely suffer a number of defeats. We can expect long lines and long counts; even a decisive Biden victory may take a few days to tally. A close election is a downright frightening proposition. Fortunately, we have Democratic governors in Michigan, Wisconsin, Pennsylvania, and North Carolina, and we've had elections in the past few months to serve as trial runs.
---
One final point: if there is a "silent majority", it's for Biden. Trump's supporters are noisier, and the White House spends a lot of effort trying to manufacture the appearance of enthusiasm, but Trump's approval even at the strongest points of his presidency had a hard ceiling that he is currently well below.
Trump's Tulsa flop was not an insignificant event. His political acuity has always been overstated, both by a media that overcorrects for its dismissive coverage of his 2016 campaign, and by liberals beset with anxiety and anger that can only be lifted by Trump's defeat. This is best captured in the latest Monmouth poll of Pennsylvania, which (rather hilariously) shows voters there overwhelmingly for Biden but also broadly suspicious of their neighbors as secret Trump voters (if I had to share one piece of evidence that provides insight into the damaged post-2016 American psyche, it'd be that poll).
But something like pardoning Roger Stone three months before people start casting votes is offensively bad politics. To turn this around, Trump needs to show deftness and discipline. I, for one, am not confident.
---
Putting It All Together
Trump could still win, of course, despite running a historically bad campaign. But as I see it, these are the outcomes in play, ranked in order of likelihood:
Decisive Biden Victory — Ds keep House, Senate is toss-up

Landslide Biden Victory — Ds keep House and Senate

Narrow Biden Victory — Ds keep House, Rs keep Senate

Narrow Trump Victory — Trump wins EC, Ds keep House, Rs keep Senate

Controversial Non-Conclusion — Chaos
---
If you read one thing this week: Read former Obama staffer Dan Pfeiffer on the limitations of The Lincoln Project. I've been meaning to get around to exactly what Pfeiffer writes here (Jane Coaston has a similar piece in Vox, and Kevin Robillard in the Huffington Post). Basically, these ads are well-crafted political pornography for liberals, and effective pieces of psychological warfare waged on an audience of one, but do very little in the way of persuading voters in battleground states. They affirm perceptions rather than shape them. As Pfeiffer writes,
"(T)he attention the Lincoln Project has received doesn't match their actual impact. Priorities USA, Pacronym, and the other Democratic groups that have been taking the fight to Trump for months. They are spending more money, reaching more voters, and are more worthy of Democratic dollars.

Support the Lincoln Project if you want but know what you are supporting. And, oh yeah, make sure you cancel your recurring donation before the Lincoln Project starts running ads attacking President Biden for raising taxes on oil companies in early 2021."
I am wary that post-election, the ex-GOP operatives who comprise The Lincoln Project will claim a greater share of credit for Trump's defeat than is due, and may feel entitled to access and influence in a Biden administration—they shouldn't have any, and their efforts beyond 2020 should remain focused on defeating Trumpism and reforming their fallen party in the aftermath of Trump himself, which, to their credit, they seem to understand.
Bookmarked Tweet of the Week: