Marginalia 8.4.20
Time and tide flow wide.
There's a moment in Bridge of Spies where Tom Hanks remarks of the placid, stoic character played by Mark Rylance, as the latter faces what seems his inevitable execution: "Do you never worry?"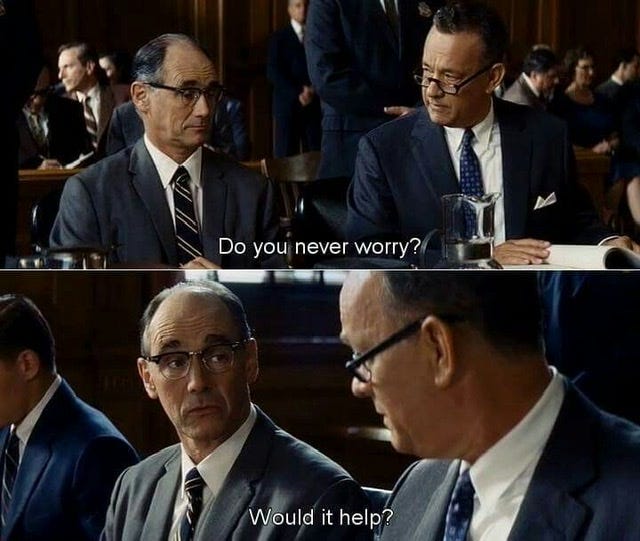 One inference to be made from Rylance's rhetorical reply is that the mark of an advanced intellect is to remain clear-headed and sober in times of duress. It's not that Rylance denies his fear; he just doesn't allow it to govern his choices and thinking. Panic and worry are best channeled into resolve and vigilance, it would seem. That's a valuable lesson for the next 90 days: think clearly and act accordingly.
---
I think it's a natural human bias to believe that the times in which you live are particularly riven with trouble and danger; the uncertainty and anxiety of the present is a constant in all the history and literature I've read. I try to be mindful of this bias—call it the bias of despair—and I am constantly wary as I write these pieces that they will only result in alarmist fatigue (for reader and writer). But as I've written before, this is a time where alarmism is appropriate. And one can be alarmed and still think and act with clarity.
So let's think clearly about these 90 days. Here's what we know: Donald Trump is likely to lose. He knows that without the protection of the presidency, he may face serious legal consequences for the first time in his life. We know that the unique conditions of the pandemic present the possibility of chaos and uncertainty that could allow the predicted result to be upended. We can see already how Trump and Republicans are trying to manipulate these circumstances in his favor, by sabotaging Ben Franklin's Postal Service, sowing misinformation about voting by mail, and trying to get a spoiler candidate on the ballot.
We also know from history that authoritarians take power more than they are granted it. While there are elements of Trump's anti-democratic efforts to remain in power that are uniquely American, there is a there's-nothing-new-under-the-sun quality to his efforts as well: subversion of institutions, media manipulation and propaganda, implicit sanction and threat of violence, cronyism and corruption, and the soliciting of foreign interference.
So, here is what I think we need to do:
Have a plan to vote. If you vote by mail, double-check and monitor your state's process for doing so.

HOWEVER— If you feel safe voting in person, do so. This is not ideal but a greater portion of in-person votes would undercut Trump's claims of fraud. Recent examples indicate voting in person during the pandemic is safe if not convenient, provided masks are donned and distancing observed.

This might be most important: Be prepared to not know final results on November 3rd. Discuss this likelihood and promote this idea with friends and family, particularly on social media. Convey this message: a vote conducted largely through mail takes longer to count, but is safe and secure. Voter fraud is so exceedingly rare as to be a non-issue in American elections, and there is nothing nefarious about a longer collection and count of mail-in ballots. We can reasonably anticipate that Trump will claim victories in states where he leads but the count is not finished. Again, stay calm and insist on a final tally.

If you can, volunteer to work as an election judge or a poll watcher for the Biden campaign. Trump's campaign is planning an army of poll intimdators, and their presence needs to be countered. Click here to fill out a form to volunteer as a vote protector in Michigan; here is information about volunteering in Wisconsin.

Be prepared to march or otherwise demonstrate if Trump tries to undermine the election result. If you've never protested before, you'll never have a more urgent reason.

Always remember:
---
John Lewis is an important figure for many reasons, but one that I think is particularly important is that he provides a counterpoint to the pervasive cynicism and jadedness we have about politics and public life. Indeed, this cynicism is often weaponized by right wing strongmen to rationalize their contempt for thinking of politics in terms of morality or ethics. To someone like Vladimir Putin, politics is a purely transactional competition for power, a vehicle for acting on your grievances and resentments, and politicians like John Lewis, who appeal to a higher plane of morality, are coldly dismissed as sanctimonious hypocrites.
In this worldview, every bad action is justified if you can find a precedent, and there's always a precedent. We have an example this week from Donald Trump, directly echoing (not for the first time) the RT talking point that it's understandable, if not permissible, for Russian agents to, say, offer bounties on American soldiers to Taliban fighters since American operators probably did the same thing in the 1980s (Trump: "Well, we supplied weapons when they were fighting Russia too. … We did that too.").
Donald Trump in 2017 dismissed Lewis as "all talk" and "no action." Trump was conspicuously absent from John Lewis's funeral and lying-in-state this past week. Jamelle Bouie writes here on how Lewis represents the antithesis of Trump; Lewis is the best America has to offer, Trump the worst. John Lewis is proof that we can and should have a more moral politics and government; he was that line from Lincoln in the Bardo: All we can do is what we should.
And Lewis lived a beautifully political life. Of course there will inevitably be compromises and concessions; I do not mean to reduce Lewis to an overly idealized, elevated and therefore unreal figure, as we have done with King. We may live in a world of gray, but even still, Lewis shows you can live and act by what is right.
Barack Obama captured this in his brilliant eulogy. As I review this speech, I'm increasingly convinced it is the best in his career. If you have not read it, along with Lewis's remarkable final essay—also steeped in politics—is similarly potent, and these words will resonate with me forever:
When you see something that is not right, you must say something. You must do something. Democracy is not a state. It is an act, and each generation must do its part to help build what we called the Beloved Community, a nation and world society at peace with itself.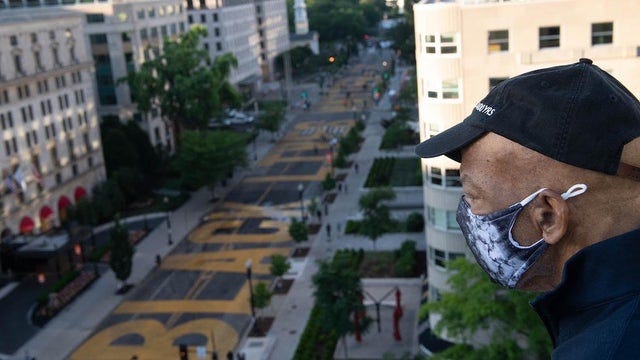 June 7, 2020.
---
I've written before about historical interpretations of the United States as existing in three distinct phases, usually defined as from 1789-1861 (First Republic), 1862-1954 (Second Republic), and 1954-present (Third Republic), and the imperative for a Third Reconstruction.
Two recent pieces from the Atlantic offer valuable insights and reflections on this school of thought. The first is from Adam Serwer (always a must-read): "John Lewis Was an American Founder," which gives a compelling overview of Lewis's life and argues that his actions contributed to the making of the nation as we know it today just as much as Franklin, Hamilton, Jefferson, et al:
"The Third American Republic, the only one to sincerely pursue the promises of the Declaration of Independence and the first true attempt at interracial democracy in American history, was founded by people including Vivian, Lewis, Diane Nash, and Coretta Scott King. They are part of a third generation of American leaders who elevated the universal truths in Christian doctrine and the words of the 1776 Founders, and shamed the nation into deciding that these ideals meant something. The Voting Rights Act and Civil Rights Act remade America into something it had never been, bringing the nation closer to what it fancied itself to be."
The second piece is part of the magazine's fantastic ongoing The Battle for the Constitution series. It's by Wilfred Codrington III (that's a real name) and is called "The United States Needs a Third Reconstruction":
"The next period of Reconstruction must contend with the effects of the prior era's deconstruction. America's undoing of interim progress has only added to the weight of history and increased the burden for future generations. The unmitigated injury of slavery and racism did not end with abolition or the civil-rights era; instead, like interest on debt, its impact has compounded. The upshot of this is that continued inaction and delay amount to opportunities lost, and will make racial justice ever more difficult to achieve."
---
Of course, meeting the challenges of our time would be a lot easier with two healthy political parties. That means two parties that, while they have different and often opposing ideas about the role of government in the lives of its citizens, share a common commitment to democratic processes, fairness, and institutions.
But the Republican Party remains the problem in American life. And as we peak optimistically to a Trump-less future, the question is being deliberated: will the Republican Party reform and moderate, or will it continue its extremist lurch? Will the next generation of Republicans give way to an army of mini-Mitts, or will the Matt Gaetz's and Jim Jordans and Tom Cottons continue their ascent to party power?
I'm increasingly pessimistic. The emerging party is looking even more extreme, even openly adopting conspiracy theories and talking points from QAnon:
A Republican Senate candidate recently declared herself "one of the thousands of digital soldiers" in service of QAnon, a convoluted pro-Trump conspiracy theory about a "deep state" of child-molesting Satanist traitors plotting against the president. A congressional candidate in Colorado who made approving comments about QAnon bested a five-term Republican incumbent in a primary last month.

And then there is Marjorie Taylor Greene, a Georgia Republican who is perhaps the most unabashedly pro-QAnon candidate for Congress and has drawn a positive tweet from President Trump. She recently declared that QAnon was "a once-in-a-lifetime opportunity to take this global cabal of Satan-worshiping pedophiles out."
In addition to QAnon, the batshit-crazy OANN is increasing in influence, and Sinclair is corrupting local news programming.
It's not looking good, and it makes the imperative for structural changes to guard against anti-majoritarian power even more urgent.
---
Interestingly, we can turn to the sports world for examples of competent governance triumphing over magical thinking. The government of Canada allowed the NHL to use Edmonton and Toronto as the host cities for its restart, while denying Major League Baseball permission to play any games in Toronto. The difference? The NHL's restart takes place in a quarantined bubble, while baseball's does not. The results? The NHL announced zero positive tests in its first week of competitive play, while the baseball season teeters on the brink of cancellation. The other bubble league, the supremely competent NBA, also appears on track to be able to play its entire restart, as the bubbled English Premier League recently did. I'm skeptical college and professional football seasons can be played, under their current scenarios. It's bubble or bust, and it was all very predictable.
All this serves as a reminder that, while we still do not know very much about the virus itself, epidemiologists and public health officials have always known what is needed to contain its spread. The simple fact remains that they were ignored, and worse.
---
If you read one thing this week: the great science reporter Ed Yong has returned with his second Atlantic cover story on the pandemic, "How the Pandemic Defeated America." An excerpt:
This was predictable. A president who is fixated on an ineffectual border wall, and has portrayed asylum seekers as vectors of disease, was always going to reach for travel bans as a first resort. And Americans who bought into his rhetoric of xenophobia and isolationism were going to be especially susceptible to thinking that simple entry controls were a panacea.
A second piece: Vanity Fair on Jared Kushner's malevolent mismanagement of the pandemic response. This warrants an appearance in Congress:
Most troubling of all, perhaps, was a sentiment the expert said a member of Kushner's team expressed: that because the virus had hit blue states hardest, a national plan was unnecessary and would not make sense politically. "The political folks believed that because it was going to be relegated to Democratic states, that they could blame those governors, and that would be an effective political strategy," said the expert.
A television recommendation:
The Great on Hulu. Best political show since Veep. Huzzah!