Recently I shared with AP Lit students one of my favorite American short stories, John Cheever's "The Swimmer," originally published in the New Yorker in 1964. The story tells of Neddy Merrill, who one fine summer's day maps out an imaginary river of backyard swimming pools traversing eight miles through the suburbs of what is probably Westchester but could just as easily be Greenwich, the Grosse Pointes, the North Shore, or any other enclave of affluence in these United States. The story remains potently relevant today when viewed through the lenses of privilege, entitlement, and impunity. Something or someone must be giving Neddy permission to pursue his adventure, to enter into people's backyards unannounced and uninvited. Neddy's journey is underwritten by the presumption that he is allowed to do it, that the rules guarding private property exist for others but do not apply to him. As he embarks on his journey, Neddy fantasizes that he's an adventurer, "determinedly original" with "a vague and modest idea of himself as a legendary figure."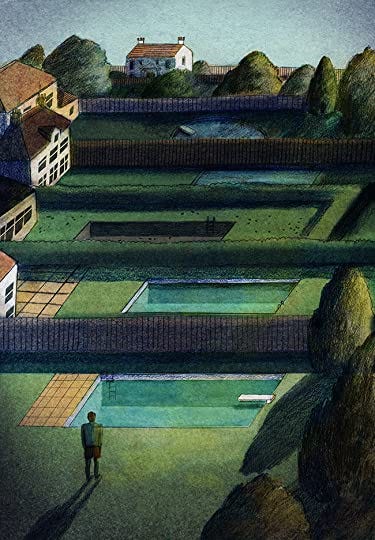 As the journey ensues, however, Neddy's delusions are stripped away, pool by pool. The irony is that his "gift" for "concealing painful facts" is his downfall, that his capacity for denial has left him alienated and alone. When Neddy finally must face reality in the form of consequences, he crumbles. The final word of the story is empty—ostensibly about the Merrill family home, but more deeply, a condemnation of Neddy himself.
---
I have a theory on the Bob Woodward revelations. Donald Trump is a performer who always panders to his audience. He vaguely understands Bob Woodward as the elite chronicler of the American presidency. He knows Woodward is not a dummy, and probably runs in the same egghead circles as Anthony Fauci on the Georgetown circuit. Donald Trump has spent his whole life seeking the validation and approval of the Bob Woodwards of the world. He wants to show Woodward he can hang with the big boys, that he's a secret smart guy, and so talking with Woodward, he parrots the gist of what the NIH and CDC experts have briefed him on.
But like Neddy Merrill, Trump will always choose the comfort and safety of denial and self-delusion. Like Neddy, Trump's only interest is in protecting himself from consequences. Like Neddy Merrill, his life of privileged impunity has masked a fundamental cowardice. Trump was too scared to take on the pandemic. He knows the science, the politics, and the statecraft all lie beyond his grasp. He is too insecure to delegate. Trump's bluster has always been a mere facade to cover weakness of intellect and principle. Trump has used the pretense that the virus is not his fault to justify his inaction. It's not my fault, therefore I take no responsibility is the subtext of every public utterance he has made on the subject.
The Neddy Merrills and Donald Trumps of the world both rely upon and perpetuate the myth of meritocracy— Trump frames his worldview in terms of "winners" and losers." Everything I have is because I deserve it. They cling to this myth because the reality that everything they have was given rather than earned is not just unflattering, but strips away the stature from which they confer their authority. Without it, they are empty.
---
We are now seeing the same failure play out, but more slowly, and promising even more devastation, in Trump's ongoing climate change denialism, this time as the West Coast burns, so much so that the morning skies in Chicago this week have been shrouded in a yellowy haze of lingering smoke from fires raging 2,000 miles away.
Climate change is not Donald Trump's fault, but it is his responsibility, as long as he's president.
---
Climate change and American political dysfunction are really overlapping crises, two sides of the same proverbial coin. Because of the extremism of rural Republicans, we will not be able to address the former without first taking on the latter. Here, Peter Beinart writes how the Electoral College is stifling an American response to climate change:
This is the problem with an electoral system that allows presidential candidates to ignore most of America's voters. Sometimes the Americans being ignored are facing problems that presidential candidates desperately need to prioritize. By the time Pennsylvania, Michigan, and Wisconsin face climate emergencies that rival those currently afflicting California, Oregon, and Washington, the problem may be too far along for anyone to fix.
And to overcome the disproportionate representation of climate deniers in the Senate, the filibuster must be killed to have any chance of saving the health of the environment.
Much like the spread of the virus, the question is no longer prevention, but mitigation.
---
A central thesis this newsletter adheres to is that the two American political parties are asymmetrical. We are seeing this asymmetry play out again in the presidential campaign, where Joe Biden is attempting to amass a winning coalition through persuasion and direct appeals to voters of all stripes, while Donald Trump, in the astute analyses of Greg Sargent, is not trying to win the election so much as get within cheating distance to steal it. Jamelle Bouie concurs:
The larger, more important factor is that Trump isn't actually running for re-election — or at least, not running in the traditional manner. He has a campaign, yes, but it is not a campaign to win votes or persuade the public outside of a few, select slivers of the electorate. Instead, it's a campaign to hold on to power by any means necessary, using every tool available to him as president of the United States.
Once again we should reflect on how differently this would be playing out if presidential elections were decided by a popular vote—we would already be planning for a Biden administration to take over in January.
Under normal circumstances, Biden would be more than likely to win this election, even with the Electoral College—I'd put his chances at close to 4 out of 5, based on the national and state polling with just 50 days to go, and few undecided voters, and some early votes already being cast. The debates are not going to change many minds, to such an extent that debate is probably the wrong word for them.
But what has to concern every American is the extremist tilt of Trump's campaign which, while expected, is still deeply unsettling. Just as he did in 2016, Trump is telling his supporters to reject the legitimacy of any outcome that results in his defeat, but this time he has the full powers of the presidency behind him, sowing mistrust and misinformation, and even offering genuinely terrifying pretenses for political violence.
I had been considering volunteering to be a poll observer in Wisconsin on November 3 but have decided it is too dangerous. This is the state of our politics under Donald Trump's rising authoritarianism.
---
An update: The Belarusians are still at it.
If you read one thing this week: Adam Serwer carries the flag for the Third Reconstruction Optimists, which for all my cynicism and anxiety of the moment, I still count myself a member:
There has never been an anti-racist majority in American history; there may be one today in the racially and socioeconomically diverse coalition of voters radicalized by the abrupt transition from the hope of the Obama era to the cruelty of the Trump age. All political coalitions are eventually torn apart by their contradictions, but America has never seen a coalition quite like this.

History teaches that awakenings such as this one are rare. If a new president, and a new Congress, do not act before the American people's demand for justice gives way to complacency or is eclipsed by backlash, the next opportunity will be long in coming. But in these moments, great strides toward the unfulfilled promises of the founding are possible.
It's a deep dive piece that, like everything Serwer writes, is definitely worth a full read.
What I'm Watching: A lot of viewers have tuned out, but I'm still enjoying Brexit in its fifth Season. There have been a lot of new characters and plot developments, but the central theme of Brexit not actually happening remains strong.
But however much British democracy is struggling, unlike the American legislative houses when there's not an impeachment on, the proceedings of its parliament still offer moments of real oratory and some accountability for its decision makers. Here, Ed Miliband offers a healthy dose of both:
One cannot help but note the similarity in posture—the tensely folded arms, the scowling face, the dead-eye stare—between Boris and Trump in those rare moments when someone speaks truth to their power. Boris even takes out his phone! Every world leader should have to be subject to this kind of public haranguing.
Another moment that caught my attention recently was this Sky TV reporter not letting a Cabinet minister off the hook:
All this British accountability and principled reasonableness gives me a reason to link my all-time favorite video.
Speaking of envying other nations, Canada had a day of zero COVID deaths last week.
Bookmarked Tweet of the Week:
The last word goes to Bruce Springsteen:
As Socrates supposedly said, "The unexamined life is not worth living." Express your emotions, share your inner life and be emotionally generous with your friends and your partner. All of these things will make you a stronger presence in your community and will allow you to give more of yourself freely and lovingly. This will make you happy. Learn how to be an informed, active and engaged citizen. Your country needs you, your vision, your energy and your love. Yes, your love. Love your country, but never fail to be critical when it comes to your country's living up to your and its ideals. Listen to the voices calling you from our founding documents and keep faith with them.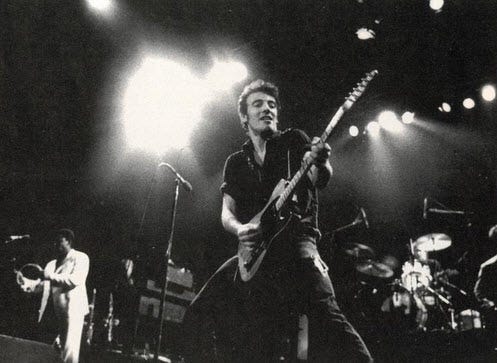 Talk about a dream, try to make it real